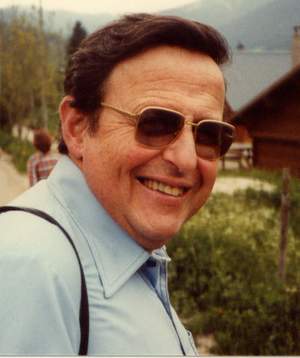 Nardi at 61
Florian was the fifth son of Iulia Weiss and the second son of Tobias-Meir Horodniceanu. Florian's nick name was Nardi, after his second first name : Florian Leonard Anibal Horodniceanu. Nardi was born in Ploiesti, a town which is 60 km North of Bucharest. We don't know exactly when, why, and how Nardi's father, Tobias-Meir established himself in Ploiesti. He was born in Botosani (1892), a Moldavian town holding a large Jewish community. Tobias-Meir was the second husband of Iulia Weiss. Iulia was previously married with Jacques Siegler (1886-1917) and lived in Bucharest. Nardi had three half brothers (Ionel, David, and Filip) and one brother (Jacques). The five brothers gathered together for the last time in 1930.
By 1930-35, the family moved to Bucharest. In 1939 Nardi, just like any young Jew living in Romania, was not allowed to attend the official Romanian school and his parents enrolled him in a private Jewish school. During the World-War-II years, Nardi joined the Romanian Communist Party (we think that Nardi was 16 or 17 years old when he became a communist) and participated to various illegal activities, risking his life at many occasions.
Just after the war (1945) Nardi started to study medecine in Timisoara and then in Bucharest. While he was still a medical student, he started to work at the "Institutul Ion Cantacuzino" carrying out research in virology under the advisorship of his mentor and friend, professor Ionescu-Mihaiesti. Nardi and Thea (born 1928) met at the Medical School in Bucharest. They married on September 9, 1949. Nardi and Thea had 2 sons, Radu (1953) and Petre (1955), and lived together 51 years, until Nardi's death.
Nardi received his MD degree in 1951 from the Bucharest School of Medecine. In 1965 he received a Doctor of Science degree from the University of Bucharest. Eventually he became the Chief of the Department of Experimental Medicine and Virology at the Cantacuzino Institute. From 1951 and until 1969 he was Assistant then Associate Professor with the School of Medecine, Bucharest. He contributed to the eradication of poliomyelitis in Romania.
While in Romania, Nardi had had several opportunities to travel to Paris (1956), London (1968), and Paris, Milano, and Tel-Aviv (1970). Although he has been a member of the Romanian Communist Party for a long time, by 1955 Nardi did not trust in communism any more. These various trips that he took abroad convinced him that there was no future in Romania for his family and himself. While abroad, in 1970, he managed to make arrangements with his brothers and on January 16, 1972, at the age of 47, Nardi and his family (his wife Thea and sons Radu and Petre) left Romania and flew to Paris. In 1975 Radu got the French citizenship and the rest of the family became French in 1978. They decided to change their name from Horodniceanu to Horaud.
Upon his arrival in Paris, Nardi was granted a research fellowship and, within a few months, Nardi started a brilliant career at the Institut Pasteur in Paris, where he was appointed Research Director of the Laboratory of Viral Ecology. Then he became Chief of the Laboratory of Medical Virology and from 1985 to 1990 he acted as the Chairman of the Department of Virology. In 1981 Nardi was appointed Professor of Medical Virology. From 1985 to 1993, he was director of the WHO (World Health Organization) Collaborative Center of the Standardization of Viral Vaccines and Recombinant DNA products. He also acted as the Scientific Director of Texcell Ltd.
From 1972 to 2000, Nardi travelled throughout the world, either to visit various research institutes and universities, to attend international conferences, or to act as a consultant. While being internationally recognized in his fields of expertise (virology and biological standardization) he never forgot his colleagues and friends from the Cantacuzino Institute in Bucharest. He invited and hosted them in Paris at several occasions, visited them in Bucharest, and established formal collaborations between the Pasteur and Cantacuzino institutes. He never missed an opportunity to visit his family in Israel and in New-York.
Nardi officially retired in 1993, at the age of 68, but never stopped his professional activities. He continued to act as a Honorary Professor, as a senior advisor of the Directeur Général de l'Institut Pasteur, as a scientific consultant for a number of French, American, British, and Swiss pharmeceutical companies, as well as an expert for many French, European, and international agencies and organizations. Among others, he was a consultant for WHO, for the World Bank, and he chaired the Viral Safety Expert Group at the Agence du Médicament, in Paris.
As a member of the Scientific Committee of the EUROCONFERENCES, Nardi participated to a meeting on "Pharmaceuticals and Viral Safety" in Paris, March 2000. On April 17, 2000, Nardi was invited in Taipei, Taiwan to give the "Choh Hao Li Memorial Lecture". Soon after that Nardi died in Paris on July 26, 2000, at the age of 75.